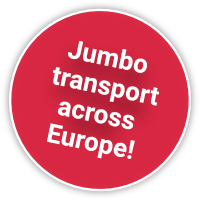 CEE Logistics Deutschland!
We provide customers in Western Europe with transport and logistics services of all kinds. Reliability and speed are our highest principles. Our state-of-the-art jumbo semi-trailers travel across all of Western Europe to meet your needs.
Jumbo transport across Europe
Our fleet is made up of jumbo semi-trailers with fixed or exchangeable containers (swap bodies) and mega-trailers. All our vehicles correspond to the Euro 6 standard as a minimum and are certified. We are also continually expanding and modernising our fleet. Up to 4 more pallets on each journey. High volume transport across Europe. We have been working in international transport since 2011 and are experiencing a steady pace of growth. We are now one of the most important transport and logistics businesses in Europe.
Our regularly satisfied customers are large and small companies, including a large number of market leaders and hidden champions, many of whom have been working with us for many years already.
Above all, they value our reliability, our multilingual communication and our excellent service, including on site in the destination countries.
Do you want to learn more about us?
CEE Logistics
Deutschland GmbH
Hansekai 6
50735 Köln-Niehl (Hafen)
Tel.: +49 221 77 89 95 0
Fax: +49 221 77 89 95 90
Mail: [email protected]
U can use our contact form
Do you have questions about our service, or would you like to get a quote? Then use our contact form and conveniently reach the right point of contact without any detours!
© Copyright CEE Logistics Deutschland GmbH - Webdesign by www.britta-distel.de