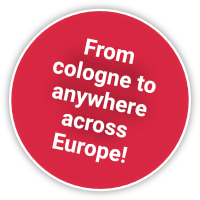 Across Europe. 4 more pallets.
Reduce your freight costs with our jumbo vehicles across Europe!
In our jumbos – transport from Cologne to anywhere across Europe. One headquarters – many destinations.
Up to 4 more pallets on each journey. High volume transport across Europe. We have been working in international transport since 2011 and are experiencing a steady pace of growth. We are now one of the most important transport and logistics businesses in Europe.
We're just where you need us.
Our team will look after your shipment over the entire journey – from handing over the goods and transport to arrival and unloading. Native speakers from ten countries ensure that everything runs without a hitch in the destination country as well – and that your shipment reaches its destination on time and without damage. Thanks to our knowledge and our vast network, we can offer you many advantages such as additional trips, and specific expertise and useful contacts in Eastern Europe.
4 more pallets per journey across Europe! Save energy and costs with our jumbo transport.
You can prevent up to 15% of your carbon emissions using our jumbo transport. This is because our jumbo lorries have room for four more pallets.  
In specific terms, this means: you can save every seventh shipment and also reduce your transport costs!
The advantages of our jumbo transport:
Get in touch with us.
We'd love to tell you more!
Or simply use our contact form.
CEE Logistics
Deutschland GmbH
Hansekai 6
50735 Köln-Niehl (Hafen)
Tel.: +49 221 77 89 95 0
Fax: +49 221 77 89 95 90
Mail: [email protected]
U can use our contact form
Do you have questions about our service, or would you like to get a quote? Then use our contact form and conveniently reach the right point of contact without any detours!
© Copyright CEE Logistics Deutschland GmbH - Webdesign by www.britta-distel.de